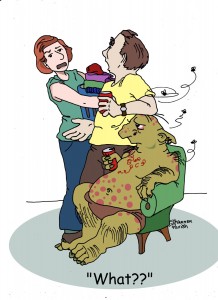 There is a monster being entertained in our homes!  Would you guess that it is pornography? Are you one of those people who think that porn is no big deal? Have you bought into the mindset that "everyone does it" and there isn't any harm that comes from it?  Did you know that pornography "rewires" the brain, and that the interactive nature of online porn is very addictive?

Our culture here is changing at a rapid pace. Technology has brought things right into the privacy of our homes, whereas before an individual had to walk into an adult bookstore, or a strip club. Now it is available on our smart phones. Our youth are involved with sexting and sharing nude images, and obviously it is not just youth–but politicians that have recently been in the news.  
The statistics of those that are being caught by the 'monster' are staggering:
57% of Pastors are addicted to Pornography

49% of Christians believe Pornography is acceptable

Porn is a $57 billion a year industry (ABC – CBS – NBC take in $6.2 billion)

$3075 is spent on porn every second
The divorce rates are being adversely affected by internet addictions– 68% involve internet infidelity; 56% are due to porn involvement. These stats come from 2010 surveys, and if anything these numbers are increasing. I think you would agree that these are alarming statistics.
If you or members of your family have been affected by this monster, let us hear from you.